If you've missed a payment, don't worry, we're here to help get you back on track.
Answer a few simple questions below and we'll help you get the support you need.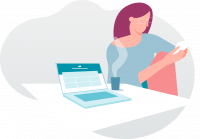 Your journey with the Financial Support team
Step 1:
Speak to us as early as you can. We know this might be difficult, but our financial care specialists are here to help. We offer support specific to you. Missing a payment can impact your credit file. Speaking to us early can help to reduce that impact. Simply talking to us will not impact your credit file.
Step 2:
Be open and honest when speaking to us. We know some customers have medical or personal situations impacting their ability to manage their finances. We may ask a lot of questions to understand your situation. This might include asking you to fill out a budget planner, because we need to be sure that any outcome we agree is right for you.
Step 3:
We'll talk you through the options available based on our conversation. These options might include:
A repayment plan to reduce what you owe over a few months
30 days breathing space to take free independent advice
We tailor these options to you once we have completed a budget planner. Any arrangements will show on your credit file. If you don't get in touch, a third party may contact you on our behalf.
Independent help & support
Speak to one of our partners to see if they can give you a helping hand
Financial health check
Our free tool gives you personalised tips to improve your financial health