Get £160 cashback when you switch your current account to us
Stress-free switching in just 7 working days 
You can either switch to a new account, or one you've already got with us. 
Our dedicated switcher team will switch of all your Direct Debits, standing orders and your salary. 
Choose when your switch starts – this can be up to 60 days in the future. 
It will only take 7 working days.
We will keep you updated of progress by letter, text and email. 
We'll close your old account and redirect any payments to your Santander Current Account. 
You could get a 4 month fee-free Arranged Overdraft when you switch to us. Overdrafts are offered depending on your circumstances.
After the fee-free period, arranged overdraft interest may apply, depending on your account.
You can also choose to switch to Santander from a bank or building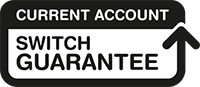 society that is not a participant in the Current Account Switch Service free of charge. For more information please read our Current Account Switch Guarantee
Switching your overdraft
Current accounts that include an overdraft can switch to us using the Current Account Switch Service. If you'd like to have an overdraft with your new Santander bank account, speak to us before starting your switch. We'll be able to advise if you're eligible for an overdraft, which is dependant on our lending criteria and your credit status
This information is for customers who request to switch an account to us from 02 August 2022 as part of the £160 cashback offer.
The accounts eligible for this offer are our 1|2|3 Current Account, 1|2|3 Lite Current Account, Everyday Current Account, Select Current Account and Private Current Account.
To qualify for the offer, within 60 days of telling us to switch your account, you'll need to: 
have successfully completed the switch, which includes closing the account not held with us
set up at least 2 active Direct Debits (this cannot include Direct Debits set up to fund a savings account you have with Santander, cahoot or Cater Allen)
pay in £1,000, and 
log on to Online or Mobile Banking (with details for your personal account, not details for a business account).  
To be eligible for £160 cashback, you and everyone named on the account in question mustn't have already used a switcher offer on any of our accounts. This includes cahoot and Cater Allen accounts, which are part of Santander UK plc. 
Take a look at the terms and conditions (32 KB)
When will I get my cashback payment?
We'll check if you're eligible for the cashback offer 60 days after you first told us to switch your account. We'll then pay £160 cashback into your qualifying account within the next 30 days. You can expect payment around 90 days after you told us to switch your account, as long as you've met the eligibility criteria. 
If the qualifying account is held in joint names and you're eligible for the cashback payment, then we'll make one payment only (you won't get one payment each), even if more than one qualifying account is opened and/or switched into by you or one of the joint holders. 
We reserve the right to not make any cashback payment where we suspect or are made aware that the switcher offer is being abused. For example by closing an existing current account in order to switch back to us to receive the cashback payment.
If you've asked to switch during the offer and we then withdraw the offer before your switch completes, you'll still be eligible for the cashback as long as you meet the eligibility criteria. 
If you think you've met eligibility criteria and haven't received your £160 cashback after the 90 days, you can contact us by logging on to Online or Mobile Banking, click on 'chat with us' and let us know that you've not received your cashback.
We will switch your current account in 7 working days.
Switching and Third Party Provider (TPP) services
If you're using any services provided by TPPs on the current account you're switching over to us then this access will not be switched to your new account. 
They might include services like aggregation (the ability to see your accounts from more than one provider in one place), money management or other services where you're providing permission for a third party company to have access to information, or carry out payments on your behalf. Our terms and conditions provide more information about TPPs permissions.
There's a couple of simple things you'll need to do to move these services over to your new account. 
If you don't know which TPP's are accessing your account then before you close your old account, check which permissions are active. 
When your new account is open you'll need to set up access to your new account with your TPP.
There are some types of accounts that can't be used with TPP's. Current accounts that you can use online will be included. 
Learn more about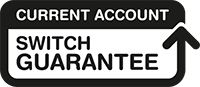 We have designed the Current Account Switch Service to let you switch your current account from one bank or building society to another in a simple, reliable and stress-free way. It will only take seven working days. As your new current-account provider we offer the following guarantee. 
The service is free to use and you can choose and agree your switch date with us. 
We will take care of moving all your payments going out (for example, your Direct Debits and standing orders) and those coming in (for example, your salary). 
If you have money in your old account, we will transfer it to your new account on your switch date. 
We will arrange for payments accidentally made to your old account to be automatically redirected to your new account. We will also contact the sender and give them your new account details. 
If there are any issues in making the switch, we will contact you before your switch date. 
If anything goes wrong with the switch, as soon as we are told, we will refund any interest (paid or lost) and charges made on either your old or new current accounts as a result of this failure. 
How to switch
Switching to Santander is stress-free and can be completed in just 7 working days. Check if your current bank or building society is signed up to the Current Account Switch Service 
If you don't already hold a Santander current account, you can apply online or in branch. We will ask you during the application if you want to switch an account you hold elsewhere to Santander. 
If you're an existing customer we can also arrange to switch a current account you hold elsewhere to your existing Santander current account. Simply visit your local branch. An appointment may need to be booked. 
To switch you'll need to give us 
your existing sort code and account number
your existing debit card number and expiry date. If you are switching a joint account to us, we'll need the debit card details for all applicants. 
See our range of current accounts
Switch to one of the following accounts
1|2|3 Lite Current Account
Changing your existing Santander account
If you already have an account with us it's easy to change to a different one. You can compare our accounts, then go to the page for the account you want to change to and choose 'Change my existing account' then follow the instructions. (This isn't part of the Current Account Switch Service).