Need help? Ask chat
We know you may be worried about your finances at the moment. And the coronavirus situation is making it harder for people to pop into a branch or phone us. That's why chat is available to help you and answer your questions and queries faster.
You can use chat to find out information about the accounts you have with us and about any questions you may have. For example:
how can I arrange an overdraft on my current account? 
how do I use Online Banking? 
how do I apply for a loan? 
There's so much chat can help you with.
Click on the 'Chat with us' red tab on the right-hand side of any of our webpages and you can start to chat.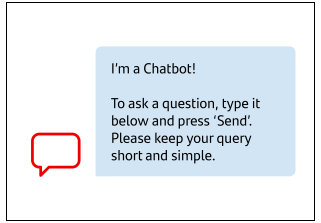 There are two different types of chat. Our 'virtual assistant' is available 24/7 to help you with your questions. Its quick responses will save you time and get you to the right information you need. 
So, you might type 'Can't remember my PIN', or 'I'm worried about my mortgage payments'. Then chat will be able to show you the website pages that might help.
The other type of chat is with a real person. If you're chatting to the virtual assistant during office hours and if it can't answer your questions it will sometimes be able to pass you over to a person who can help.
Chatting on our website
Simply click on the red 'Chat with us' area on the right-hand side of our website pages.
Just type your question into the box. Keeping your questions short and simple will help to get you the answers you need. 
Chatting in Online or Mobile Banking
You can also use chat when you're logged into Online or Mobile Banking. When you log in we can identify you securely which means we can answer more specific questions relating to your personal accounts.