Virtual accounts
Giving businesses who look after client money or need to manage multiple accounts a simple, effective and secure self-management system.
Automatic allocation of receipts into individual virtual accounts.
Reductions in administrative time and effort.
Centralise cash into the Pooled Account and potentially benefit from a higher interest rate.
Directly control the opening of any number of virtual accounts.
Accessed through a secure online web portal to manage funds from any location.
We'll provide initial training and ongoing back office support.
Two Corporate Current Account Plus (CCA+) accounts (Office Account and Pooled Account) to be opened.
Connect Plus (Online Banking) access.
CCA+ and Connect Plus fees apply in addition to the fees for Santander Virtual Accounts.
What are virtual accounts?
Virtual accounts are a series of sub-accounts linked to a single current account, reducing the need for physical bank accounts. They provide firms with greater control and visibility over their cash flows.
Santander Virtual Accounts can provide support with client money regulations and may be suitable for solicitors, accountants and general cash management.
How does it work?
To operate Santander Virtual Accounts you'll need to open a minimum of two Corporate Current Account Plus (CCA+) accounts - an Office Account for interest and charges and a Pooled Account to hold all cash balances. 
Once set up, Santander Virtual Accounts reflects the total balance held in the Pooled Account across any number of virtual accounts. Virtual accounts are not real bank accounts but are a means of identifying specific funds held within the overall Pooled Account balance.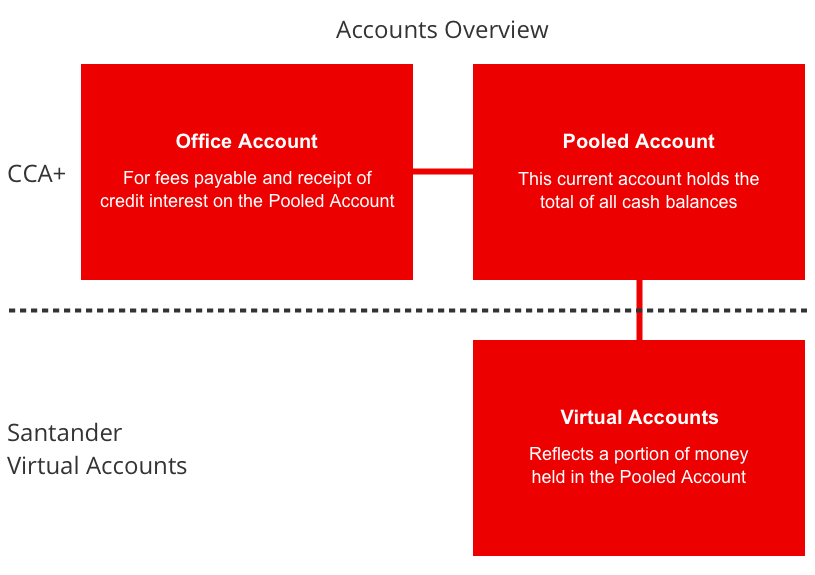 Additional information
If you require more than one Santander Virtual Accounts structure (one Office Account, one Pooled Account and multiple virtual accounts) e.g. one for clients and one for payroll, you'll be charged separately for each structure and any additional fees associated with Connect Plus.
You can cancel Santander Virtual Accounts by providing two months' notice to your Relationship Director. Any fees paid are non-refundable. For more information on Santander Virtual Accounts, including the product eligibility criteria and applicable fees, please contact your local Relationship Director.