Eligibility
All directors, owners (shareholders) or partners are aged 18 or over and UK resident 
Your business is registered in the UK
You're either a sole trader or your business is a partnership, limited liability partnership, private limited company or trust
Arranged Overdraft

(Subject to status)
Representative 5.75% EAR (variable)
Annual fee 1% of the agreed overdraft (minimum fee £50)
| Cashback on the first £10,000 of annual credit turnover | Annual credit turnover | Cashback amount |
| --- | --- | --- |
| 1% | Less than £200,000 | Up to £100 per year |
| 2% | £200,000+ | £200 per year |
| 3% | £300,000 | £300 per year |
Your credit turnover is any money paid into your account, except any credit interest we add to the account or money transferred from other Santander accounts also held in your business's name. Cashback will be calculated annually on the same date the account was opened (or transferred to), or the first working day after this. Cashback will then be paid on the following working day. 
If you switch your business current account to us using the Current Account Switch Service you'll pay a reduced monthly fee of £5 per month the first 12 months. 
At the end of the 12 month period, you'll pay £12.50 per month.
You can switch your business current account with any provider to us. You will receive a new account number, card and PIN.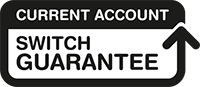 For more information take a look at our switching support page
your business is in it's first year of trading, and
this is your business' first business current account with us.
The account fee is £5 per month for the first 18 months, at the end of the 18 month period you'll pay £12.50 per month.
| | 1|2|3 Business Current Account |
| --- | --- |
| Monthly fee | £12.50 per month |
| Cash deposit charges at Santander ATMs | No charge and unlimited ATM deposits |
| Cash deposit charges at Santander and Post Office branch counters | No charge for deposits of up to £1,000 per month (then 70p per £100) |
Charges apply to non-standard transactions such as change-giving, CHAPS payments and foreign currency transactions. Please see the Key Facts Document in 'Other account information' for full details. 
As part of your current account application, you can apply for a business overdraft from £500 to £25,000 (subject to acceptance) if: 
you have a good credit history;
you haven't been declared bankrupt;
you haven''t been a disqualified director or a director of a failed business within the last 6 years; and
neither you, nor any of the directors, owners (shareholders) or partners, have had an Individual Voluntary Arrangement.
Arranged overdraft annual fee

1% of the agreed overdraft (minimum fee £50)

Arranged overdraft interest rate

(Bank of England Base Rate plus 5%)

Unarranged overdraft interest rate

25.75% EAR (variable)

(Bank of England Base Rate plus 25%)

Unpaid item fee

£15

Paid item fee

Not applicable
Overdrafts depend on your circumstances and you must repay any overdraft when we ask, in line with our General Terms and Conditions.
We recommend reading the information in the documents below before you apply. You may want to save or print them so you can refer to them in the future.
24/7 banking on all your devices. You can set up paper free statements and set up personalised account alerts.
Online Banking
Mobile Banking app
Face-to-face banking in our branches and Post Offices
In branch – pay in, withdraw cash, deposit cheques and transfer money (all transactions subject to account limits)
Telephone Banking
Use our ATMs to withdraw cash, make cash and cheque deposits, check your balance and manage your PIN 
We'll automatically send you alerts about your balance and payments in order to help you avoid charges (for example when you're in an unarranged overdraft, a payment has gone unpaid or you need to pay money in to cover a payment). These alerts are free, and will be sent by text message (or email if we don't have your mobile number). Once the alerts have been set up, if you don't want to receive or want to change alerts, you can do this in Online Banking or by calling us on 0800 731 6666.
Participating providers of UK business bank accounts have agreed to a basic set of information that they'll need from you to set up your UK business current account. Find out what you'll need to provide using the simple business account checklist from UK Finance, the UK's leading trade association for financial services. This is only a standard checklist, so you may have to provide additional information while completing our application form.
We'll need to check your personal identity and we may need to check the existence of your business. Check you've got the ID you'll need
If you are, or have applied to become a Payment Service Provider, please go to the Payment Service Provider page to find out more about the services available and how to make contact with a Santander Relationship Director.
Keep your banking details private and secure.
For more information about our approach to security as well as more useful information to help you stop the threat of fraud visit our Security Centre
Important information
A Santander 1I2I3 Business World customer is someone who holds a 1|2|3 Business Current Account (including Start-up and Switcher offers). All customers must meet the eligibility for the 1|2|3 Business Current Account (including Start-up and Switcher offers) and 1|2|3 Business World offer.
Subject to availability and may be withdrawn without notice at any time.
AER stands for Annual Equivalent Rate and shows what the interest rate would be if we paid interest and added it to your account each year. The gross rate is the interest rate that we pay where no income tax has been deducted. Interest is calculated daily and paid monthly. Rates may change. EAR stands for Effective Annual Rate and represents the yearly cost of an overdraft, which takes account of how often we charge interest to the account, and does not include any other fees or charges. Overdrafts depend on your circumstances and you must repay any overdraft when we ask in line with our Terms and Conditions.
Information is correct as of 6 June 2019.