About our

overdrafts
Business overdrafts from £500-£25,000
Only pay interest on the amount you borrow on the days you're overdrawn
Eligibility
 
You have a Santander business current account
Your business is registered in the UK
All directors, owners (shareholders) or partners are aged 18 or over and UK residents
You're a sole trader or your business is a partnership, limited liability partnership, private limited company
You haven't been a disqualified director or a director of a failed business within the last 6 years
You have a good credit history and haven't been declared bankrupt.
The company, directors, owners or partners have not had an Individual Voluntary Arrangement in the last 6 years.
Arranged overdraft
(Subject to status)
 
10.00% EAR (variable)
Short term borrowing for those unexpected costs
Annual fee 1% of the agreed overdraft (minimum fee £50)
Understanding your overdraft
An arranged business overdraft is borrowing through your business current account. This acts like a short-term safety net when your business cash-flow needs a little extra support. You pay an annual fee, and interest on what you use. This can be expensive compared to other borrowing options. 
Did you know, you incur debt when you use your arranged or unarranged overdraft. As with any other debt, managing an overdraft and keeping costs under control are crucial. It can be expensive to use an overdraft for long term as the interest can mount up.
When you apply for an Arranged Business Overdraft with us, we will look at your circumstances. We will then let you know if you can have one, and how much you can borrow. You must repay any overdraft when we ask you to in line with our General Terms and Conditions.
It's important to remember that different business current accounts have different overdraft interest and charges. 
Arranged and unarranged overdrafts – how they work
Here's an example of how it works for a customer with a £1,000 arranged overdraft (your specific fees may vary).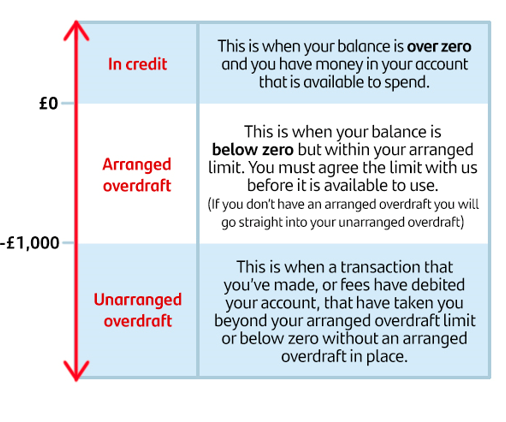 Regular use of an unarranged overdraft could have an impact your credit file.
Below you will find some advantages and disadvantages of using an overdraft:
Advantages

An overdraft is flexible – you can borrow what you need at the time. 

It's quick to arrange. 

No early repayment charge. 

Disadvantages

Interest charges: The interest charged on overdrafts can be high, which makes it an expensive way to borrow long-term.
Annual Fee: You pay an annual fee if your overdraft is renewed.
Over-spending: Spending is coming out of your business current account, so keep an eye on your debit card to avoid a large overdraft. The overdraft could be hard to pay off. We'll send text alerts if you're close to your overdraft limit unless you have opted out.
The bank has the right to ask for repayment of your overdraft amount at any time, but this is unlikely to happen unless you get into financial difficulties.