What you can get
Free everyday banking for start-ups for 18 months (£7.50 standard monthly fee)
Standard day-to-day banking
Access online, at Santander ATMs and Post Office branches
Eligibility
All directors, owners (shareholders) or partners are aged 18 or over and UK resident 
You intend to use the account for business purposes only
Your business is registered in the UK
You're either a sole trader or your business is a partnership, limited liability partnership or a private limited company
Arranged overdraft

(Subject to status)
Annual fee 1% of the agreed overdraft (minimum fee £50)
Use our quick and easy application checklist (143 KB) to make sure you have all the required information before you apply.  
You can transfer your Santander business current account online if you're:
a sole trader or current partner in a partnership
a member of a limited liability partnership
a director of a private limited company
And:
only your signature is required to operate the existing account on behalf of the business
the account you want to transfer is a Business Everyday Current Account, a Business Current Account or a 1|2|3 Business Current Account
If you want to transfer you'll need to:
Log on to Online Banking
Go to 'Apply online' on the right hand side and click on 'Transfer current account'
Have your existing account details to hand
When you transfer your existing Santander business current account you'll be able to keep your existing account number, card and PIN. 

Please note: if you're transferring from a product that is currently not on sale you will be unable to transfer back to this.
You can transfer your account by calling us on 0800 085 1968.
your business is in it's first year of trading, and
this is your business' first business current account with us.
There's no monthly account fee for the first 18 months, at the end of the 18 month period you'll pay £7.50 per month.
your business has been trading for more than a year, or
you already hold a business current account with us and want to open an additional account
The fee for this account is £7.50 per month.
You can switch your business current account with any provider to us. You will receive a new account number, card and PIN
If you'd like to switch your business current account to us using the Current Account Switch Service,  you'll pay a reduced monthly fee of £5 per month for 12 months with the switcher offer on the 1|2|3 Business Current Account
For more information take a look at our switching support page
Charges apply to non-standard transactions such as change-giving, CHAPS payments and foreign currency transactions. Please see the Key Facts Document in 'Other account information' for full details. 
Overdraft (there are fees associated with your overdraft)
As part of your current account application, you can apply for a business overdraft from £500 to £25,000 (subject to acceptance) if: 
you have a good credit history
you haven't been declared bankrupt
you haven't been a disqualified director or a director of a failed business within the last 6 years and
neither you, nor any of the directors, owners (shareholders) or partners, have had an Individual Voluntary Arrangement.
Overdraft interest rates and fees
|   | Interest and charges |
| --- | --- |
| Arranged overdraft annual fee | 1% of agreed overdraft (minimum fee £50) |
| Arranged overdraft interest rate | 10.00% EAR (variable) |
| Unarranged overdraft interest rate | No interest |
| Unpaid item fee | No fee |
| Paid item fee | No fee |
Overdrafts depend on your circumstances and you must repay any overdraft when we ask, in line with our General Terms and Conditions.
Other borrowing options are available. See our business borrowing and finance options to find out more.
We'll let you know at least 30 days before we debit your annual renewal fee and at least 14 days before we debit your monthly charges and interest. 
Please see the Key Facts Document in the 'Key documents' section for full details. 
We recommend reading the information in the documents below before you apply. You may want to save or print them so you can refer to them in the future.
24/7 banking on all your devices. You can set up paper free statements and set up personalised account alerts.
Online Banking
Mobile banking app
Face-to-face banking at Post Office branches
Telephone Banking
Use our ATMs to withdraw cash, make cash and cheque deposits, check your balance and manage your PIN (all transactions subject to account limits)
You'll be automatically set up to receive text alerts when:
• your account makes or may make use of an unarranged overdraft 
• you have regular payments due on your account for which you have insufficient funds to cover, we will ask you to pay into your account to ensure these payments are made; 
• where a payment is refused as you don't have enough funds. 
You can register to receive an alert when:
• your account makes use of an arranged overdraft.
If we don't have a valid mobile number for you, we might not be able to reach you. 
You can also register for other account alerts to help you to stay on top of your finances. For example, alerts to inform you when your balance has fallen below a set limit, or you have had a deposit into your account greater than a set amount. For more information visit Account alerts. You can manage your alerts settings at any time via Online Banking, calling us on 0800 731 6666 or visiting a branch.
Participating providers of UK business bank accounts have agreed to a basic set of information that they'll need from you to set up your UK business current account. Find out what you'll need to provide using the simple business account checklist from UK Finance, the UK's leading trade association for financial services. This is only a standard checklist, so you may have to provide additional information while completing our application form.
To make your application journey as easy as possible we've created a checklist so you have all the information required to hand including your personal identity and existence of your business. Check you've got the right information you'll need (143 KB)
If you are or have applied to become a Payment Institution (API, SPI), E-money Institution (EMI, SEMI), Payment Initiation Service Provider (PISP), or Account Information Service Provider (AISP), please go to the Payment Service Provider page for information about accounts available.
Keep your banking details private and secure.
For more information about our approach to security as well as more useful information to help you stop the threat of fraud visit our Security Centre
Join an award-winning bank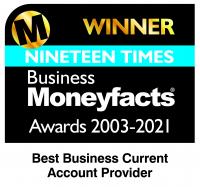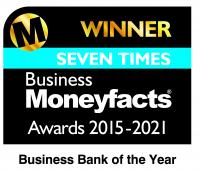 This account also comes with
£500 ATM withdrawal per day
Online and Mobile Banking with text and email alerts
Information correct as at 10 November 2021.